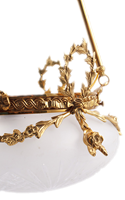 Our aim is to keep the ancient traditions of artistic craftsmanship alive.
In the centre of Warsaw we continue to produce faithful copies of lamps in the Gothic, Rococo, Baroque, Empire, Warsaw Duchy and Louis XV and XVI styles. We design and manufacture period (traditional) and modern lamps, renovate and reconstruct works of the art of illumination. Our works can be found in many places of prestige in Poland and abroad, among them, the Royal Castle in Warsaw, the seat of the Primate of Poland, Staszic Palace, the National Theatre, the Chopin Museum, Zamość Castle, St. Catherine - the oldest church in Warsaw, and in many embassies and diplomatic missions, embassies such as Moroccan, Brazilian, and Polish diplomatic facilities.
We are able to produce both modern and stylish light sets, according to our own as well as customer's designs. Our visual artist Anna Mielczarek-Kulak – graduate of Faculty of Graphic Arts on The Academy of Fine Arts – will design whatever the customer can imagine.
We also do renovations and reconstructions of lighting artworks, e.g. in the Uphagen House in Gdańsk. We can reconstruct any detail in brass.
You don't have to be president to feel at your home like in a palace from the old or modern days.